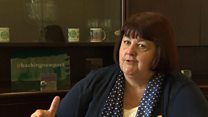 Councillors trolled due to a 'lack of understanding'
24 September 2017 Last updated at 06:47 BST
A lack of understanding about what councils do in Wales is leading to councillors being trolled online, council leaders have said.
The Welsh Local Government Association (WLGA) said that councillors needed greater protection against the constant abuse while local authorities were struggling to keep services afloat amidst budget pressures.
WLGA leader Debbie Wilcox said more needed to be done to show people what councillors do.