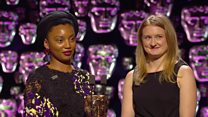 Rungano Nyoni 'outstanding debut' Bafta for I Am Not A Witch
18 February 2018 Last updated at 22:30 GMT
A film about an African witch camp directed by a Welsh-Zambian director has won a Bafta for outstanding debut.
Rungano Nyoni's feature I Am Not A Witch tells the story of an eight-year-old Zambian girl accused of being a witch.
The director, who was brought up in Cardiff from the age of eight, accepted the prize alongside producer Emily Morgan.
She appeared shocked to have won, saying: "We're not prepared."