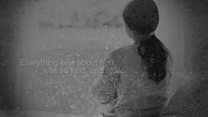 Caldey Island abuse victim speaks out about monk
20 November 2017 Last updated at 17:32 GMT
A woman who was one of six children abused by a monk on Caldey Island in the 1970s and 1980s has spoken about her torment.
The victims claim Father Thaddeus Kotik, who lived on the Pembrokeshire island for 45 years, befriended families to earn their trust before targeting the young children.
Caldey Abbey has since paid compensation to the six women involved.
One of the victims has spoken about why the children forgave the monk, who died in 1992.
Her words have been voiced by an actress.