BBC Newsround Home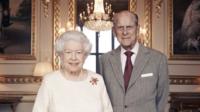 Queen celebrates 70 years of marriage
The Queen and Prince Philip plan to spend the day with family and friends at Windsor Castle.
What's happening in Zimbabwe?
The army has taken control in the African country but President Robert Mugabe has ignored demands for him to step down.
Are the Royal princes in Star Wars?
Star Wars star John Boyega - who plays Finn in the films - says Princes William and Harry will appear as stormtroopers in The Last Jedi being released in December!