Animals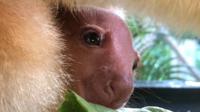 Video 0:43
Baby tree kangaroo takes first hops
An adorable little joey has started exploring the world outside its mother's pouch.
Wild asses back from the brink
Wild asses - which are part of the horse family - are being reintroduced to Kazakhstan where they once roamed in large numbers.
More animal stories
Steve Irwin gets Walk of Fame star
The Hollywood honour for the famous Australian TV star nicknamed 'The Crocodile Hunter' will be unveiled next week, almost 12 years after his death.