Entertainment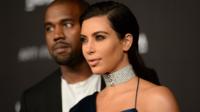 Kim and Kanye call new baby Chicago West
With a sister called North and a brother called Saint, we probably should have expected another unusual baby name for Kim and Kanye's new daughter.
More entertainment stories
Video 1:05
Space Invaders hit Tokyo
Ever heard of Space Invaders? No, not actual invaders from space (that would be scary) its a video game that's just turned 40 years old! Take a look...